Abstract Fine Art Gallery – Corey Barksdale – Atlanta Georgia Artist (SlideShow)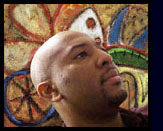 COREY BARKSDALE
September 27, 2011 — If you live in Atlanta, you might have already come across Corey Barksdale's paintings in art festivals, galleries, or on his website. This bright African American artist brings life to his designs with great textured colorful elements and creativity. His works reflects his many sources of inspiration, with a focus on music and dance – Jazz music in particular -, urban city life and the love and strength present within the African-American community.
Corey has carried out numerous projects for businesses and individuals throughout Atlanta, and he has participated in art shows throughout the United States.
Over the last few years Corey has also developed his skills as a mural artist and one of the major projects he recently completed was a 30 feet mural painting for the Beltline, Atlanta's ambitious urban redevelopment project. Rob Brawner, the Atlanta Beltline program director was thrilled with the result, stating that: "Corey was able to bring the Atlanta BeltLine alive through his colorful interpretation of the project." Another much acclaimed mural project he recently completed was a vast wall painting for the Ben Hill Recreation Center as part of the Paint Big project, an initiative by Wonderroot, Living Walls, Dorian McDuffie and the City of Atlanta Office of Recreation.
Corey is also an artist who cares and who often donates his time and artistic energy to various charity projects. He recently participated in a house remodeling for the ABC show Extreme Makeover Home Edition, contributing a mural painting for one of the family's bedrooms. One of the charities dear to his heart, the Furniture Bank of Metro Atlanta, has "been honored to receive donated art work from Corey Barksdale for its annual fundraiser. Every year we are amazed by his talent and generosity!" says Megan Anderson from the Furniture Bank.
Corey's creations can be used as quality interior design decorations by advertising firms, bars, restaurants and other retail businesses.
His fine art paintings offer a modern/contemporary style, on canvas or Masonite and will create a memory you can treasure for years to come.
His mural paintings will make your location stand out, contributing to your visual identity and allowing you to express and communicate your mission and vision in a creative and esthetic way.
[easyrotator]erc_88_1351335778[/easyrotator]
.